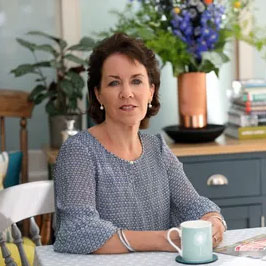 I'm Dawn Manwaring and I've been a Norwich-based designer for over 20 years, choosing to specialise in interior design more recently.
I'm passionate about renovating properties from any architectural period and the social history that shaped it. Interior design is an integral part of this as it allows our homes to adapt to our constantly changing lives.
Interior design can benefit everyone – whether it's making someone's home life more comfortable or a space flow more easily. I'm also a great believer in making use of clients' own possessions and not spending money when it isn't necessary. A lot can be achieved with a few simple changes, so often a fresh perspective is all that's needed.
It's easy to lose sight of the reason you were attracted to your home in the first place. But with my design expertise, you can realise your property's full potential – whether you're trying to sell it, using my interior design services or taking one of my courses.
Whether you're looking to move home or make the most of the one you have, I can help you to achieve it, so let's talk and see what we can accomplish together.